Join hundreds of nonprofits who have raised more with Swell!

"It was our first online campaign of this scale and, as a volunteer-led organization,
it is important to us for the software to be easy to use and understand.
The Swell team is just a phone call or quick email away, so this service, plus the value of the tool, helped us to be successful in our campaign."
~Junior League of San Antonio
"We're so happy with the progress of this year's May Match campaign.
I'm letting everyone know that our incredible success is thanks to Swell!"
~Birmingham Education Foundation
Sign up for a Swell base account today to join our next class!
Starting June 8th
**Includes a 1-1 campaign consultation with your team**
Swell's six week program (also recorded) will prepare you and your team to launch a successful online campaign.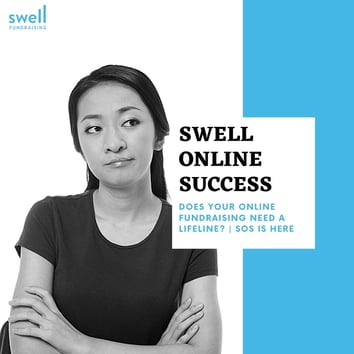 Do you want to join the club?
OR
Launch Your Event/Campaign
Easily create and customize your event/campaign website to tell your story. Your brand first. Strict privacy policy to protect donor data.
We're in this together
You're not alone. Daily steps and checklists to support your fundraising with Swell's 10-year history. Support team is a quick call.
100% Guarantee
We want you to succeed. If you don't, we will return the license fee. Period.